Global Cutting Board Market is estimated to reach USD 4261.69 million by 2027, growing at a CAGR of 6.8 % between 2019 and 2027
A cutting board is a sturdy board on which to place materials for cutting. The cutting board is mostly used in kitchen for making food; other types of cutting boards exist for cutting raw materials such as leather or plastic. Cutting boards are usually made of wood or plastic and come in many widths and sizes. There are also cutting boards which are made of glass, steel, or marbles, which are easier to clean than wooden or plastic cutting boards such as nylon, but inclined to damage knives due to their hardness, rough cutting edges such as jagged knives, abrade and damage a cutting surface more quickly than do smooth cutting implements.
The market is influenced by the price, while the cutting boards are necessities of life. People considers the low price referring to low quality and high replacement rate, hence some more expensive cutting boards are quite popular. Although China domestic companies have price advantage since the poor manufacture processing, cheap raw material and less diversity of products, the duration is much shorter than high quality goods. The companies that are leading owns the advantages on performing better, more abundant product's types, better technical and faultless after-sales services. Consequently, they take the majority of the market share of high-end market. Looking to the future years, the stable and a little bit slow downward price trend in recent years will maintain. As competition escalates, prices gap between different brands in similar class will go down. Similarly, there will be fluctuation in gross margin. With the slowdown in world economic growth, the Cutting Boards industry has also suffered a certain impact, but still maintained a relatively optimistic growth. We tend to believe this industry becomes more and more mature, and there will be appeared more specialized companies.
As on the basis of product line Global Cutting Board Market includes plastic material boards, stainless steel board, solid wood material board, and glass material board. In which, Plastic boards are typically referred to as pe (polyethylene) cutting boards, or HDPE (high-density polythene plastic), the fabric of which these boards are made. There are primarily two sorts of HDPE boards being made; a wooden cutting board is usually made from waste material or scrap left over after building larger pieces of furniture, and therefore, they help to reduce wastage.; Compared to materials such as wood, bamboo and plastic, glass material boards are highly resistant to scratches, making them hygienic and less prone to bacteria.; stainless steel cutting board is the most-favored material in professional kitchens because it is very hygienic and easy to clean.
The major key players in global Cutting Board Market are : picnic time, BergHOFF, Adeco, Catskill Craftsman, Mr direct, Madiera, Mario Batali, Ukinox, Vigo, Totally Bamboo, and Novica. The global Cutting Board Market Company mergers and acquisitions, and inter-companies cooperation have resulted for development and growth. As the proximate consumption generally follows with developed and quick economic growth areas, such as BRICS, the developed areas company prefers investing to underdeveloped regions these years. On the application side of global Cutting Board Market, is used for both as in household utilities as well as in hotels and restaurants, these boards are used in a wide range in both these applications.
On the basis of geographical analysis Global Cutting Board Market is divided into several regions like India, China, Japan, Europe, North America, and South-East Asia. The Cutting Boards industry congengration is low and there are more than ten thousands of manufacturers in the global region, and high-end products mainly from North America, Western European and Japan. The Cutting Boards industry is distributed by raw materials, many global famous manufactures in U.S. and E.U. make the woody cutting boards, while Chinese adopt bamboo widely, such as Suncha and Fujian Huayun. Japan as the advanced industrial country with a long story of cooking culture, the two famous cutting board companies both mainly adopt composite materials. Since the characters of cutting board industry, companies always manufacture located. Companies in developing countries such as China and India, in contrast, put more effort on direct selling business covering located market, and it is a common phenomenon in this industry. As they do not have that much international brand influence, their product quality is not good enough comparing with leading companies, however, they have price advantage. They like to expand their market share in developing countries and low-end international market.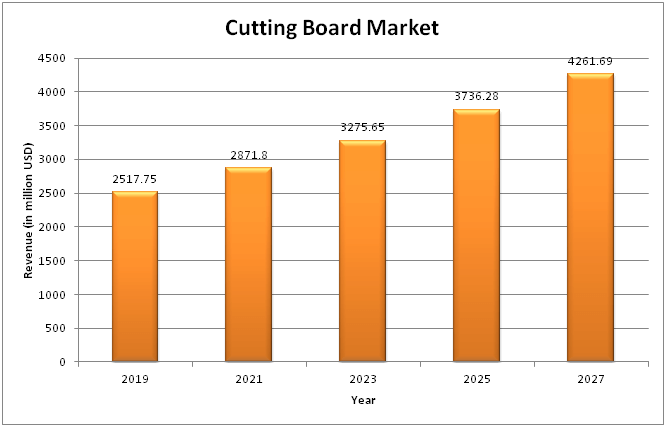 Global Cutting Board Market: Product Type
Plastic material
Stainless steel material
Solid wood material
Glass material
Global Cutting Board Market: Application
Global Cutting Board Market: Competitive Analysis
Report includes accurate analysis of key players with Market Value, Company profile, SWOT analysis. The Study constitutes of following key players in Global Cutting Board Market :

Picnic Time
BergHOFF
Adeco
Catskill Craftsman
MR Direct
Madeira
Mario Batali
Ukinox
Vigo
Totally Bamboo
Novica
Geographical analysis of Global Cutting Board Market :
North America
Europe

France
Germany
Spain
UK
Rest of Europe

Asia Pacific

China
Japan
India
South East Asia

Latin America
Middle East and Africa
Global Cutting Board Market Report delivers comprehensive analysis of :
Market Forecast for 2019-27
Market growth drivers
Challenges and Opportunities
Emerging and Current market trends
Market player Capacity, Production, Revenue (Value)
Supply (Production), Consumption, Export, Import analysis
End user/application Analysis
Report Coverage
| Parameters | Details |
| --- | --- |
| Base Year | 2022 |
| Historical Data | 2017-2022 |
| Forecast Data | 2023-2029 |
| Base Year Value (2022) | USD 2871.8 million |
| Forecast Value (2029) | USD 4551.483367 million |
| CAGR (2022 to 2028) | 6.8 % |
| Regional Scope | North America, Europe, Asian Pacific, Latin America, Middle East and Africa, and ROW |
---
Cutting Board Market was valued at around USD 2871.8 million in 2022 & estimated to reach USD 4551.483367 million by 2029.
Cutting Board Market is likely to grow at compounded annual growth rate (CAGR) of 6.8% between 2023 to 2029.
Yes, the report includes COVID 19 impact on the market.