The global Cardiac assist devices market is valued at USD 2.4 billion in 2016 and is expected to reach USD 5.1 billion by the end of 2026, growing at a CAGR of 7.8 % between 2017 and 2025. Cardiac assist devices are used to treat end stage heart failure. These devices are act as mechanical pumps that work along with the heart to improve its pumping efficiency and maintain the optimum blood flow throughout the body. Cardiac assist devices may replace the heart partially or completely. These devices also support the heart in case of respiratory failure.

There are different cardiac assist device available for patient. The choice of cardiac assist device is determined by the needs of the individual. Some devices are implanted in the body, while some operate outside the body. The different available devices are intra-aortic balloon pumps, total artificial heart, ventricular assist devices, and circulatory support devices. Ventricular assist devices are widely used and are expected to dominate the global market. These devices are used in patients suffering from end stage heart failure, where treatment through medicines is not possible.

Cardiac assist devices are very costly. Such high cost is hammering this market in the developing and underdeveloped countries due to low per capita income and insufficient medical infrastructure. Alternative treatments like pacemakers heart transplantation and some common risks related with cardiac assist devices include infections, pump thrombus, development of blood clots, hemorrhage, arrhythmias, and even device failure are acting as barrier for the growth of this market. Other surgical factors like kidney failure, bleeding, Infection and occurrence of stroke may hinder the growth of the global cardiac assist devices market.

North America is the largest cardiac assist device market followed by Europe and Asia-Pacific due to high rate of diagnosed patients suffering from cardiac diseases. Asia Pacific is anticipated to witness an exponential during the forecast period because of development in medical infrastructure, rise in per capita income, growing health awareness and government initiatives for treatment of cardiac diseases. Increase in occurrence of cardiovascular diseases with ageing population and technological advancements is driving growth of this market. Also investment in R&D to make cardiac assist devices more efficient and cost effective is boosting cardiac assist device market.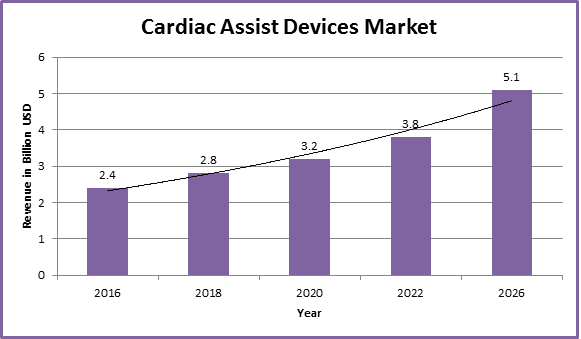 Cardiac Assist Devices Market : Product Type
Intra-Aortic Balloon Pumps
Total Artificial Heart
Ventricular Assist Devices
Circulatory Support Devices
Cardiac Assist Devices Market: Application
Hospitals
Ambulatory Surgical Centres
Cardiac Assist Devices Market : Competitive Analysis
Report includes accurate analysis of key players with Market Value, Company profile, SWOT analysis. The Study constitutes of following key players in Global Cardiac Assist Devices Market:
Biophan Technologies, Inc.
Calon Cardio-Technology Ltd
Thoratec Corporation
MAQUET GmbH & Co.
Teleflex Incorporated
Heart Ware International
Berlin Heart GmbH
Abiomed Inc.
SynCardia Systems
Bioheart, Inc.
Cardiac Assist, Inc.
MyoCardioCare, Inc
Cleveland Heart, Inc.
Geographical analysis of Cardiac Assist Devices Market:
United States
Europe
China
Japan
South Korea
India
Cardiac Assist Devices Market Report delivers comprehensive analysis of :
Market Forecast for 2018-26
Market growth drivers
Challenges and Opportunities
Emerging and Current Market trends
Market player Capacity, Production, Revenue (Value)
Supply (Production), Consumption, Export, Import analysis
End user/application Analysis
---
Cardiac Assist Devices Market was valued at around USD million in 2021 & estimated to reach USD by 2028.
Cardiac Assist Devices Market is likely to grow at compounded annual growth rate (CAGR) of % between 2022 to 2028.
Yes, the report includes COVID 19 impact on the market.