Carbon Fiber Thermoplastic Composites Market is expected to reach 8502.94 million by 2027 at CAGR of 11.4%. Carbon fiber reinforced thermoplastic composites (CFRTP) are lightweight materials that display high strength, high elastic modulus, and high potential for low-cost manufacturing or secondary fabrication, which are attractive characteristics for many industrial applications. Fiber reinforced thermoplastic resin composites have a number of advantages such as high fracture toughness, recyclability and possibility to re-melt and reprocess compared with thermo-setting composites. Therefore, the CFRTP is very keen under global environmental issue in which natural resources are effectively used.
The introduction of new materials, particularly for aerospace products, is not a simple, quick or cheap task. New materials and associated processes require extensive and high cost qualification and must meet challenging manufacturing, strength, stiffness, durability, inspection and maintenance requirements, as well as emerging recycling-reuse targets, obligations and directives. Considering the structural design process, a design is traditionally conceived using experience in combination with highly idealized performance models.
Thermoplastic materials typically exhibit high toughness, high service temperature and shorter manufacturing cycle times, as part manufacture does not rely on a chemical process. In addition, thermoplastic raw materials do not have short shelf lives nor do they require refrigerated storage as with typical aerospace thermosetting resins. Moreover, thermoplastic resins are re-processable, making it possible to efficiently repair local defects in service, an advantage for large, expensive unitised structures.
In regional growth scenario North America Market is expected to hold its strong position for forecasted period. Rise in automobile industry, new infrastructure development, wide application of Carbon Fiber Thermoplastic in aircraft industry are the prime reasons for the growth of market in North America. Since last 5 years European Carbon Fiber Thermoplastic Composites Market has shown tremendous growth due to high demand in Automobile industry. Many Automobile giants like Audi, BMW , Ferrari has adopted heavy use of Carbon Fiber Thermoplastic Materials. Asia-Pacific market is also booming due technological advancement in Automobile & Aircraft which leads to growing demand of Carbon Fiber Thermoplastic Materials. While Africa, Middle East and South American market expected to show constant growth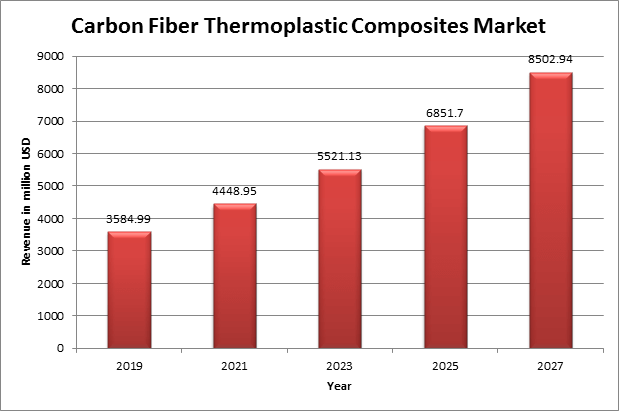 Carbon Fiber Thermoplastic Composites Market: Product Type
Short Fiber Thermoplastic Composites
Long Fiber Thermoplastic Composites
Continuous Fiber Thermoplastic Composites
Glass Mat Thermoplastic Composites
Carbon Fiber Thermoplastic Composites Market: Vessel Type
Electrical & Electronics
Transportation
Aerospace & Defense
Carbon Fiber Thermoplastic Composites Market : Competitive Analysis
Report includes accurate analysis of key players with Market Value, Company profile, SWOT analysis. The Study constitutes of following key players in Carbon Fiber Thermoplastic Composites Market :
Celanese Corporation (US)
DuPont (US)
Royal DSM N.V. (Netherlands)
Koninklijke Ten Cate bv (Netherlands)
SABIC (Saudi Arabia)
Lanxess AG (Germany)
Solvay S.A. (Belgium)
BASF SE (Germany)
PlastiComp, Inc. (US)
PolyOne Corporation (US)
Quadrant AG (Switzerland)
Geographical analysis of Carbon Fiber Thermoplastic Composites Market:
North America
Europe

France
Germany
Spain
UK
Rest of Europe

Asia Pacific

China
Japan
India
South East Asia

Latin America
Middle East and Africa
Carbon Fiber Thermoplastic Composites Market Report delivers comprehensive analysis of :
Market Forecast for 2018-26
Market growth drivers
Challenges and Opportunities
Emerging and Current Market trends
Market player Capacity, Production, Revenue (Value)
Supply (Production), Consumption, Export, Import analysis
End user/application Analysis
---
Carbon Fiber Thermoplastic Composites Market was valued at around USD million in 2021 & estimated to reach USD by 2028.
Carbon Fiber Thermoplastic Composites Market is likely to grow at compounded annual growth rate (CAGR) of % between 2022 to 2028.
Yes, the report includes COVID 19 impact on the market.