Automotive Seat Heater Market is estimated to reach USD 2212.92 million by 2027, growing at a CAGR of 5.9 % between 2019 and 2027
An automotive Seat Heater is a pad or a cushion that encompasses an electric heating system which shoots up surface temperature of the automotive seat. An automotive seat heater is an electronic device that falls under the category of automotive interior comfort products. The temperature is adjustable by the driver. The automotive Seat Heater is kept beneath the driver's seat. It provides cushion and a temperature which brings out a comfort level and makes a comfortable and joyful drive for the driver. Automotive Seat Heater has health benefits as well. It is recommended by the doctors to those drivers who suffers from back pain. Automotive Seat Heater consists of heating element, resistor, relay and thermostat. Automotive Seat heater provides comfort but if it is used excessively it can cause burns on the skin. The Automotive seat heat heater are set to be more technologically advanced which will bring out more features in it making the drive comfortable for the driver.
The US automotive Seat heater is expected to make a significant growth in the forecasted period. The increasing competition in automotive industry is one of the major factors in growth of Automotive Seat Heater. The seat heaters are majorly used in passenger cars and generally seen in luxury cars. But, at the regions or places where the climates are extreme, the firms in automotive industry are integrating the seat heaters in normal vehicles which give the firm competitive edge over the other firms. Manufacturers are offering seat heaters at low costs and hence, these are available in the aftermarket at a low price for all car models. This availability of seat heaters for all models at lower costs has created a huge aftermarket for seat heaters. The Most vital factor behind the growth of Automotive Seat heater market is automotive industry itself. The Automotive industry is growing massively and the growth of automotive industry is directly proportional to the growth of the automotive Seat Heater Market. Moreover Increase in disposable income, has led to increase in the demand of Automotive Seat Heater. Increase in patients having the problem of back is leading to the growth of the automotive seat heater as it is recommended by the doctors to use Seat Heater while driving to those drivers who suffers from back pain.
The study covers detail analysis, growth and forecast of the Automotive Seat Heater Market. The report includes market analysis on global and regional level. The study covers historical data analysis from 2014 to 2017 and market forecast for 2019 to 2027 based on revenue generated. The study includes market value in terms of revenue in billion USD for years 2014-27 and compound annual growth rate (CAGR) in % for from 2019-2027. The market is expected to show constant growth between 2019-2027.
The report comprises value chain analysis for each of the product segments. Value chain analysis offers in depth information about value addition at each stage. The study includes drivers and restraints for Automotive Seat Heater Market along with their impact on demand during the forecast period. The study also provides key market indicators affecting the growth of the market. Research report includes major player analysis with shares of each player inside market, growth rate and market attractiveness in different end users/regions. Our study Automotive Seat Heater Market helps user to make precise decision in order to expand their market presence and increase market share.
The report provides Automotive Seat Heater Market Dynamics ,includes industry growth drivers, challenges, opportunities , risk, constraints as well as threats .Reports also includes Manufacturing Cost Analysis mainly included Raw Materials Analysis, Price Trend of product, Mergers & Acquisitions, Expansion, Key Suppliers of product, Concentration Rate of Automotive Seat Heater Market, Manufacturing Process Analysis. Research Report contains Market Effect Factors analysis mainly included Technology Progress, Consumer Needs Trend, External Environmental Change.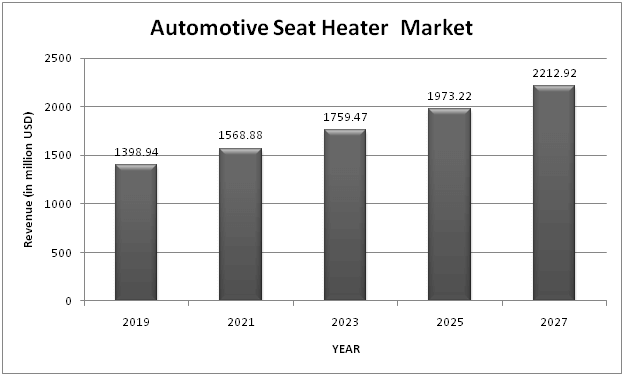 Automotive Seat Heater Market : Product Type
Carbon Fiber Heater
Composite Fiber Heater
Automotive Seat Heater Market :Application
Passenger Vehicles
Commercial Vehicles
Automotive Seat Heater Market : Competitive Analysis
Report includes accurate analysis of key players with Market Value, Company profile, SWOT analysis. The Study constitutes of following key players in Global Automotive Seat Heater Market:

Gentherm
Kongsberg
I.G.Bauerhin
Panasonic
Champion Seat Systems (U.S.)
Langfang Golden Time Technology
Geographical analysis of Automotive Seat Heater Market :
North America
Europe

France
Germany
Spain
UK
Rest of Europe

Asia Pacific

China
Japan
India
South East Asia

Latin America
Middle East and Africa
Automotive Seat Heater Market Report delivers comprehensive analysis of :
Market Forecast for 2021-28
Market growth drivers
Challenges and Opportunities
Emerging and Current market trends
Market player Capacity, Production, Revenue (Value)
Supply (Production), Consumption, Export, Import analysis
End user/application Analysis
---
Automotive Seat Heater Market was valued at around USD 1568.88 million in 2021 & estimated to reach USD 2343.481057 by 2028.
Automotive Seat Heater Market is likely to grow at compounded annual growth rate (CAGR) of 5.9% between 2022 to 2028.
Yes, the report includes COVID 19 impact on the market.