Global Automotive Relay Market is estimated to reach USD 22457.32 million by 2027, growing at a CAGR of 6.4 % between 2019 and 2027
Automotive Relay is widely used in electrical systems used in applications like automotive, trucks, industrial and heavy equipment. A high current circuit can be controlled by a lower current circuit with the help of Automotive Relay. Multiple things can be switched at the same time by one output because of Automotive Relay. Automotive Relay of different sizes and shapes are available which are used in land and sea vehicles. The most common applications where these Automotive Relay are used are the car flashlights, car alarm systems, anti-locking brake systems, car antennas, car stereos, horns, intermittent wipers among other applications.
With the increase in levels of safety and comfortable driving experience, offered by automotive Relay; the demand for automotive Relay has increased and expected to grow even more in the forecast period. With the fast pace development of PCBs (Printed Circuit Boards), lighter PCB Relay are gradually replacing complicated plug-in devices. This factor is expected to increase the global PCB relay market. Also, PCB Relay are expected to remain the dominant segment of the global relay market in the forecast period. Government regulations to include safety components in automobiles to lessen the number of casualties is forecasted to drive the automotive relay market during the forecast period. These devices can be used in safety systems like head restraints, heads-up displays, steering systems, seatbelts, and airbags.
With the increase in the use of technologies like GPS, weather, temperature and traffic information, demand for automotive Relay is expected to grow at a high CAGR. With the increase in demand for comfort levels, concepts like sunroof control, keyless entry systems, mirror control and infotainment systems have emerged. The increase in the demand for the Hybrid Electric Vehicle (HEV) segment is also a key factor that is likely to drive the growth of global Automotive Market. In the automotive industry, lack of standardization is a factor that can restrain the growth of Automotive Relay Market. Automotive Relay are weaker compared to the conventional plug-in Relay when factors like the ability to withstand voltage fluctuations, vibrations, and high temperature, and robustness are considered. Hence, in many applications, especially powertrain systems, conventional plug-in Relay are still preferred. This factor may also hamper the growth of Automotive Relay Market in the forecast period.
By product type, the global automotive Relay market can be segmented into PCB, Plug-In, and High Voltage Relay. PCB relay is expected to have the largest share in the automotive relay market. It's used in a majority of electronic applications such as ABS, cruise control, doors, power steering, power windows, and sunroof. In regions such as Europe and North America, they are used majorly. However, in regions such as Asia-Oceania and Row, Tier-1 manufacturers and OEMs still prefer plug-in versions. Plug-in Relay are used where the switching operation is performed under extreme vibrations, temperatures, and voltage fluctuations. They are used in fuel injection systems, heating control, and air-conditioning (HVAC) systems, and switching fuel pumps.
The demand for these components is more, owing to their compact size that saves considerable space in the junction box. This phenomenon, in turn, helps in reducing the overall weight of the junction box. Increasing electronic control modules coupled with electronic components have generated the demand for smaller devices that are capable of carrying greater current loads. High voltage Relay are also estimated to increase in the future as they have many applications in electric and hybrid electric vehicles. Automotive manufacturers and OEMs participate the Relay in the vehicle's circuit, based on the respective applications. They form tie-ups and alliances with service centres to ensure proper maintenance.
As per application side, the global automotive Relay market can be categorized into Passenger Vehicles, Commercial Vehicles and Electric Vehicles. The global passenger vehicles segment of automotive relay market was valued over USD 6 billion in 2016. Many governments provide lucrative offers to promote the selling and usage of EVs. A positive factor responsible for the growth of the segment is the increasing demand for electronic e-fuse over the electromagnetic alternative due to modernization of vehicles. Many European countries follow motivation-based programs for promoting EVs. Countries, like Germany and Austria, offer tax exemptions and reductions. France and the UK offered bonus payments to EV buyers and discounts on insurance.
The electric vehicles segment is estimated to witness the highest growth as compared to other segments over the forecast period. Many governments provide lucrative offers to promote the selling and usage of EVs. Tax benefits are provided at the time of purchase. Further, the extent of exemption depends on the size of batteries used in the vehicle. In the United States, insurance companies are providing discounts on insurance policies to customers and utility companies are offering low electricity rates. Also, few states deal credits to electric vehicle manufacturers and buyers for their costs and purchase of charging equipment. The Federal Government offers tax credits up to USD 7,500 for Plug-in Electric Vehicles (PEVs).
In terms of region, the automotive relay market has been segmented into North America, Europe, Asia Pacific, Middle East & Africa and Latin America. Asia Pacific is a significant revenue generating region and captured a significant market share in 2016. The regional growth is due to the penetration of automobiles in the developing economies such as China and adoption of safety standards in expected to drive the market in several Asian countries. Asia Pacific shows a high growth potential, which may be attributed to high vehicle demand in this region. Increasing automobile demand in Asia Pacific, particularly China, and Japan is estimated to drive regional market growth over the forecast period.
Growing demand for connectivity and car digitalization will favourably impact market growth over the forecast period. Additional, high-growth potential across the compact car segment due to space constraints has also driven the auto wiring harness demand extensively. Stringent government regulations mandating the use of certain electronic safety systems such as Anti-Locking Braking System (ABS) and Electronic Stability Program (ESP) to reduce harmful fuel emissions offer avenues for market growth. In addition, rising popularity of electric vehicles has also urged the auto wiring harness market demand. Europe is also expected to witness substantial growth owing to strong growth across the automotive sector.
Key player across the Automotive Relay industry are Denso, Eaton, Fujitsu, ABB Ltd., Idec Corporation, Littelfuse Inc., TE Connectivity, and Omron Corporation. The industry participants focus on alliances and strategic partnerships for strengthening their foothold. They are engaged in operational improvement, driven by cost reduction initiatives and capturing mergers and acquisitions synergies. For instance, in March 2016, Littelfuse acquired circuit protection business of TE Connectivity by an investment of USD 348 million. The company's acquisition increased its presence in Japan and strengthened the product portfolio by expanding its business in auto electronics. Later in that year, the company acquired Member headquartered in Italy and specializes in the design, manufacturing, and selling of vehicle components.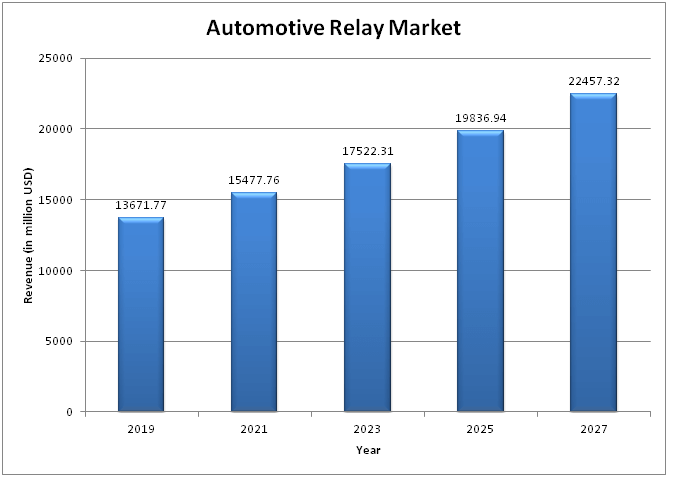 Global Automotive Relay Market: Product Type
PCB
Plug-In
High Voltage Relay
Global Automotive Relay Market: Application
Passenger Vehicles
Commercial Vehicles
Electrical Vehicles
Global Automotive Relay Market: Competitive Analysis
Report includes accurate analysis of key players with Market Value, Company profile, SWOT analysis. The Study constitutes of following key players in Global Automotive Relay Market:

Denso
Eaton
Fujitsu
ABB Ltd.
Idec Corporation
Littelfuse Inc.
TE Connectivity
Omron Corporation
Geographical analysis of Global Automotive Relay Market:
North America
Europe

France
Germany
Spain
UK
Rest of Europe

Asia Pacific

China
Japan
India
South East Asia

Latin America
Middle East and Africa
Global Automotive Relay Market Report delivers comprehensive analysis of :
Market Forecast for 2019-27
Market growth drivers
Challenges and Opportunities
Emerging and Current market trends
Market player Capacity, Production, Revenue (Value)
Supply (Production), Consumption, Export, Import analysis
End user/application Analysis
---
Automotive Relay Market was valued at around USD 15477.76 million in 2021 & estimated to reach USD 23894.58565 by 2028.
Automotive Relay Market is likely to grow at compounded annual growth rate (CAGR) of 6.4% between 2022 to 2028.
Yes, the report includes COVID 19 impact on the market.