Automotive Mirror System Market is estimated to reach USD 27665.55 million by 2027, growing at a CAGR of 7.1 % between 2019 and 2027
Automotive Mirror Systems are one of the major visual aid for safety driving. It assists the driver to drive carefully and makes the journey less accident prone if driver uses the automotive mirrors. Due to the technology enhancement automotive mirrors has been upgraded massively and electronic Mirror Systems segment growing more rapidly than Manual. Different shapes and sizes of mirror are available in the market as per vehicles. Today, there are automotive mirror systems which are sensors enabled which can distinguish between various objects and gives alarm when the vehicle is prone to hit the object so that driver gets aware about the certain distance he needs to maintain from the object.
The Automotive Mirror System market is expected to make an impressive growth rate in the forecasted period. The growth of the automotive Mirror System is dependent on the growth of Automobile sector and automobile industry is massively increasing which is resulting in the growth of the Automotive Mirror System. The request of automotive mirrors from OEM is directly proportional to the production of various types of vehicles.
Urbanization is one of the key factors in the growth of the Automotive Mirror System Market. As people are shifting from rural areas to urban areas the demand for vehicles are increasing and hence Automotive Mirror Systems. The increase in population is again increasing the demand of vehicles which is increasing the demand of automotive Mirror System. Rise in disposable income and improvement in living lifestyle especially in developing countries propelling fuel to growth of market.
The study covers detail analysis, growth and forecast of the Automotive Mirror System Market. The report includes market analysis on global and regional level. The study covers historical data analysis from 2014 to 2017 and market forecast for 2019 to 2027 based on revenue generated. The study includes market value in terms of revenue in billion USD for years 2014-27 and compound annual growth rate (CAGR) in % for from 2019-2027. The market is expected to show constant growth between 2019-2027.
The report comprises value chain analysis for each of the product segments. Value chain analysis offers in depth information about value addition at each stage. The study includes drivers and restraints for Automotive Mirror System Market along with their impact on demand during the forecast period. The study also provides key market indicators affecting the growth of the market. Research report includes major player analysis with shares of each player inside market, growth rate and market attractiveness in different end users/regions. Our study Automotive Mirror System Market helps user to make precise decision in order to expand their market presence and increase market share.
The report provides Automotive Mirror System Market Dynamics ,includes industry growth drivers, challenges, opportunities , risk, constraints as well as threats .Reports also includes Manufacturing Cost Analysis mainly included Raw Materials Analysis, Price Trend of product, Mergers & Acquisitions, Expansion, Key Suppliers of product, Concentration Rate of Automotive Mirror System Market, Manufacturing Process Analysis. Research Report contains Market Effect Factors analysis mainly included Technology Progress, Consumer Needs Trend, External Environmental Change.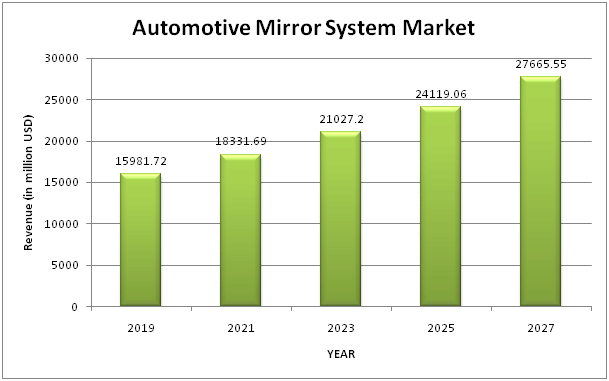 Automotive Mirror System Market: Product Type
Interior Automotive Mirror System
Exterior Automotive Mirror System
Automotive Mirror System Market : Application
Commercial Vehicles
Passenger Vehicles
Automotive Mirror System Market: Competitive Analysis
Report includes accurate analysis of key players with Market Value, Company profile, SWOT analysis. The Study constitutes of following key players in Global Automotive Mirror System Market:

Magna International
Ficosa International
Gentax Corporation
SamvardhanaMotherson Group
Flabeg Automotive Holding
Milenco
Murakami Corporation
Geographical analysis of Automotive Mirror System Market:
North America
Europe

France
Germany
Spain
UK
Rest of Europe

Asia Pacific

China
Japan
India
South East Asia

Latin America
Middle East and Africa
Automotive Mirror System Market Report delivers comprehensive analysis of :
Market Forecast for 2019-27
Market growth drivers
Challenges and Opportunities
Emerging and Current market trends
Market player Capacity, Production, Revenue (Value)
Supply (Production), Consumption, Export, Import analysis
End user/application Analysis
---
Automotive Mirror System Market was valued at around USD 18331.69 million in 2021 & estimated to reach USD 29629.80548 by 2028.
Automotive Mirror System Market is likely to grow at compounded annual growth rate (CAGR) of 7.1% between 2022 to 2028.
Yes, the report includes COVID 19 impact on the market.