Automotive Electric Actuators Market Report is estimated to reach USD 25227.62 million by 2027, growing at a CAGR of 6.2 % between 2019 and 2027
An actuator is a device that takes in the energy supplied to it in the form of electrical, mechanical or kinetic energy and converts this energy into force or motion. The output force created is relative to the input energy provided to this device. The actuator receives a signal which initiates the conversion of electrical energy into a proportionate mechanical force by the actuator. The most common type of actuator that is used in the industrial sector is the airtight cylinder that uses the stored energy of the compressed air, which helps in moving the piston as soon as the air is released or the pressure on the air reduces, reducing the compression ratio. Automotive electric actuators are responsible for converting the electrical signals, which are provided from the central control unit into a tangible action.
Automotive electric actuators help in regulating engine idle speed, engine flywheel rotations, engine torque etc., which help increase the engine efficiency and the vehicle performance. The electrical actuator, which helps in the conversion of electrical energy into a proportionate mechanical torque is the most widely used in APAC region. This actuator is used to generally operate a multi-turn valve. Additionally, a mechanical brake is installed above the motor, which enables the actuator, to keep a check on the opening of the valve, and avoid the valve from getting opened completely when not required. In the absence of this brake, the valve will be opened and closed back to its original position continuously. In such a case, the motor and the actuator will undergo abrasion thus being unfit for operation. The electric actuator has the simplest of operations and the most widely used in the automotive sector.
The study covers detail analysis, growth and forecast of the Automotive Electric Actuators Market. The report includes market analysis on global and regional level. The study covers historical data analysis from 2014 to 2017 and market forecast for 2019 to 2027 based on revenue generated. The study includes market value in terms of revenue in billion USD for years 2014-27 and compound annual growth rate (CAGR) in % for from 2019-2027. The market is expected to show constant growth between 2019-2027.
The report comprises value chain analysis for each of the product segments. Value chain analysis offers in depth information about value addition at each stage. The study includes drivers and restraints for Automotive Electric Actuators Market along with their impact on demand during the forecast period. The study also provides key market indicators affecting the growth of the market. Research report includes major player analysis with shares of each player inside market, growth rate and market attractiveness in different end users/regions. Our study Automotive Electric Actuators Market helps user to make precise decision in order to expand their market presence and increase market share.
The report provides Automotive Electric Actuators Market Dynamics ,includes industry growth drivers, challenges, opportunities , risk, constraints as well as threats .Reports also includes Manufacturing Cost Analysis mainly included Raw Materials Analysis, Price Trend of product, Mergers & Acquisitions, Expansion, Key Suppliers of product, Concentration Rate of Automotive Electric Actuators Market, Manufacturing Process Analysis. Research Report contains Market Effect Factors analysis mainly included Technology Progress, Consumer Needs Trend, External Environmental Change.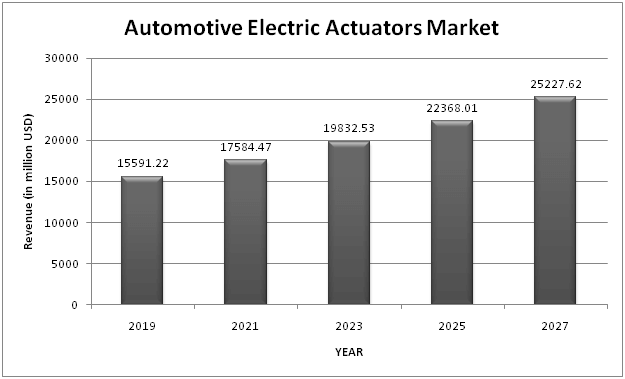 Automotive Electric Actuators Market Report: Product Type
Throttle Actuator
Fuel Injection Actuator
Brake Actuator
Others
Automotive Electric Actuators Market Report: Application
Passenger Vehicles
Light Commercial Vehicles
Heavy Commercial Vehicles
Electric Vehicles
Automotive Electric Actuators Market Report: Competitive Analysis
Report includes accurate analysis of key players with Market Value, Company profile, SWOT analysis. The Study constitutes of following key players in Automotive Electric Actuators Market Report:

Bosch
Denso
Delphi
Magna
Continental
Valeo
MagnetiMarelli
Hitachi
Hella
Mahle
Geographical analysis of Automotive Electric Actuators Market Report:
North America
Europe

France
Germany
Spain
UK
Rest of Europe

Asia Pacific

China
Japan
India
South East Asia

Latin America
Middle East and Africa
Automotive Electric Actuators Market ReportReport delivers comprehensive analysis of :
Market Forecast for 2019-27
Market growth drivers
Challenges and Opportunities
Emerging and Current market trends
Market player Capacity, Production, Revenue (Value)
Supply (Production), Consumption, Export, Import analysis
End user/application Analysis
---
Automotive Electric Actuators Market was valued at around USD 17584.47 million in 2021 & estimated to reach USD 26791.73879 by 2028.
Automotive Electric Actuators Market is likely to grow at compounded annual growth rate (CAGR) of 6.2% between 2022 to 2028.
Yes, the report includes COVID 19 impact on the market.