Global ANPR Camera Market is estimated to reach USD 1263.38 million by 2027, growing at a CAGR of 10.2% between 2019 and 2027
Automatic Number Plate Recognition (ANPR) is a type of surveillance system with major capability of capturing the image of vehicles and identifies their license number. ANPR systems comprises of hardware such as high-speed cameras with IR filters, processors capable of performing optical character recognition (OCR), frame gabber, application software, user interface, and an alert ability to notify operators in case of a match. ANPR systems can be a detached device or can be used with existing closed-circuit televisions or road-rule enforcement cameras and are used by the police forces across the globe to prevent and detect crimes. The automatic number plate recognition systems recognize the number plate on the vehicle, identify the characters, convert them into digital data and store the license plate number in a database.
Advanced analytics are changing ANPR devices into multi-purpose detection systems, which suitable very well with the concept of safe cities and smart cities, despite many other competitive technologies at the core of these systems. The next stage for ANPR systems is to integrate facial recognition with number-plate recognition. While these two functions have already been joined in some access control applications, the detection is still performed by two separate cameras, mostly due to installation angles and other practical factors. However, in the coming years, improvements in camera features and analytical algorithms could open the door to these two features combined into one single system, which would greatly improve the investigative capabilities of these devices.
The study covers detail analysis, growth and forecast of the ANPR Camera Market Market. The report includes market analysis on global and regional level. The study covers historical data analysis from 2014 to 2017 and market forecast for 2019 to 2027 based on revenue generated. The study includes market value in terms of revenue in billion USD for years 2014-27 and compound annual growth rate (CAGR) in % for from 2019-2027. The market is expected to show constant growth between 2019-2027.
The report comprises value chain analysis for each of the product segments. Value chain analysis offers in depth information about value addition at each stage. The study includes drivers and restraints for ANPR Camera Market Market along with their impact on demand during the forecast period. The study also provides key market indicators affecting the growth of the market. Research report includes major player analysis with shares of each player inside market, growth rate and market attractiveness in different end users/regions. Our study ANPR Camera Market Market helps user to make precise decision in order to expand their market presence and increase market share.
The report provides ANPR Camera Market Market Dynamics ,includes industry growth drivers, challenges, opportunities , risk, constraints as well as threats .Reports also includes Manufacturing Cost Analysis mainly included Raw Materials Analysis, Price Trend of product, Mergers & Acquisitions, Expansion, Key Suppliers of product, Concentration Rate of ANPR Camera Market Market, Manufacturing Process Analysis. Research Report contains Market Effect Factors analysis mainly included Technology Progress, Consumer Needs Trend, External Environmental Change.
On Geographical side apart from Europe, North America will keep offering stable prospects for growth to the global automatic number plate recognition market. The region observers a great demand for technologically advanced security systems, which has created an environment supporting the market's expansion in North America. In addition, the market will get advantage from the growing demand for effective toll collection. If achieved, this will help saving time spent on long lines and remove expenses incurred on the same. Given the situation, more number of ANPR cameras and frame grabbers are likely to be installed in retailing and parcel posts across the region, in turn boosting the global automatic number plate recognition camera market.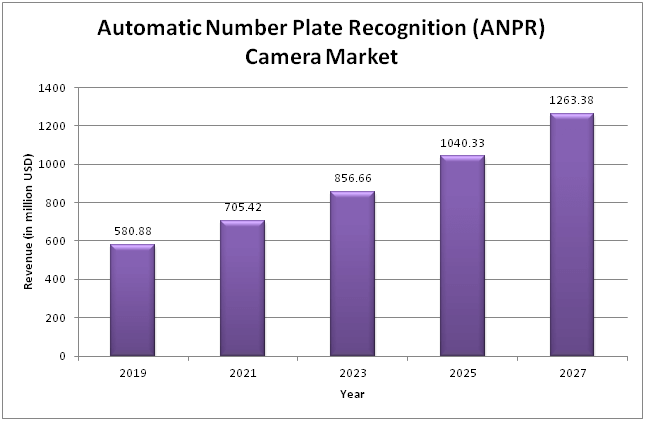 Global ANPR Camera Market: Product Type
Mobile ANPR Camera
Fixed ANPR Camera
Portable ANPR Camera
Global ANPR Camera Market: Application
Red Light Enforcement
Law Enforcement
Speed Enforcement
Parking Management
Traffic Management
Road Tolling
Global ANPR Camera Market: Competitive Analysis
Report includes accurate analysis of key players with Market Value, Company profile, SWOT analysis. The Study constitutes of following key players in Global ANPR Camera Market:

MAV Systems
3M
Genetec
ARH
Siemens
Tatile
Arvoo Imaging Products
Bosch Security Systems
Elsag
Shenzhen AnShiBao
NDI Recognition Systems
Petards Group
Shenzhen Lefound
Digital Recognition Systems
CA Traffic
PaisAn
Geographical analysis of Global ANPR Camera Market:
North America
Europe

France
Germany
Spain
UK
Rest of Europe

Asia Pacific

China
Japan
India
South East Asia

Latin America
Middle East and Africa
Global ANPR Camera Market Report delivers comprehensive analysis of :
Market Forecast for 2019-27
Market growth drivers
Challenges and Opportunities
Emerging and Current market trends
Market player Capacity, Production, Revenue (Value)
Supply (Production), Consumption, Export, Import analysis
End user/application Analysis
---
Automatic Number Plate Recognition (ANPR) Camera Market was valued at around USD 705.42 million in 2021 & estimated to reach USD 1392.255461 by 2028.
Automatic Number Plate Recognition (ANPR) Camera Market is likely to grow at compounded annual growth rate (CAGR) of 10.2% between 2022 to 2028.
Yes, the report includes COVID 19 impact on the market.