Overview
Asphalt Anti-stripping agents are the chemical composite, that provide least stripping of bonds between the aggregate surface and the bitumen. The stripping is associated to water which gets between the bitumen film and the aggregate surface. The aggregate surface is having greater attraction to water than for bitumen owing to hydrophilic nature of aggregate. Primarily Asphalt Anti-Stripping Agents are use due to long lasting asphalt pavement and enhance tensile strength saving in maintenance and restoration cost from base course to surface mixes in literature.
Product Types & Competitive Analysis
Fatty Amino, Immidazoline, Fatty Amines and Tallow Diamine are primary product types included in the research study. Fatty Amino based Anti-Stripping Agents segment holds highest market share of 35% in 2019 followed by Immidazoline and Fatty Amines. Massive transformation in infrastructure especially in developing countries along with advancement in chemical industry propelling fuel in growth of Global Asphalt Anti-Stripping Agents Market. Since 2015 manufacturing techniques has been advanced magnificently resulting in impressive growth.
Competitive analysis included in research study helps users to understand market positioning and marketing strategies of key players. Asphalt Anti-Stripping Agents Market is becoming highly competitive due to emergence new market players especially in Asia Pacific region. Despite of high entry barrier competitive edge in Asphalt Anti-Stripping Agents Market is growing primarily due to massive demand. Major manufacturers are constantly developing advance, cost-effective, quality product to attract more consumers and increase market share.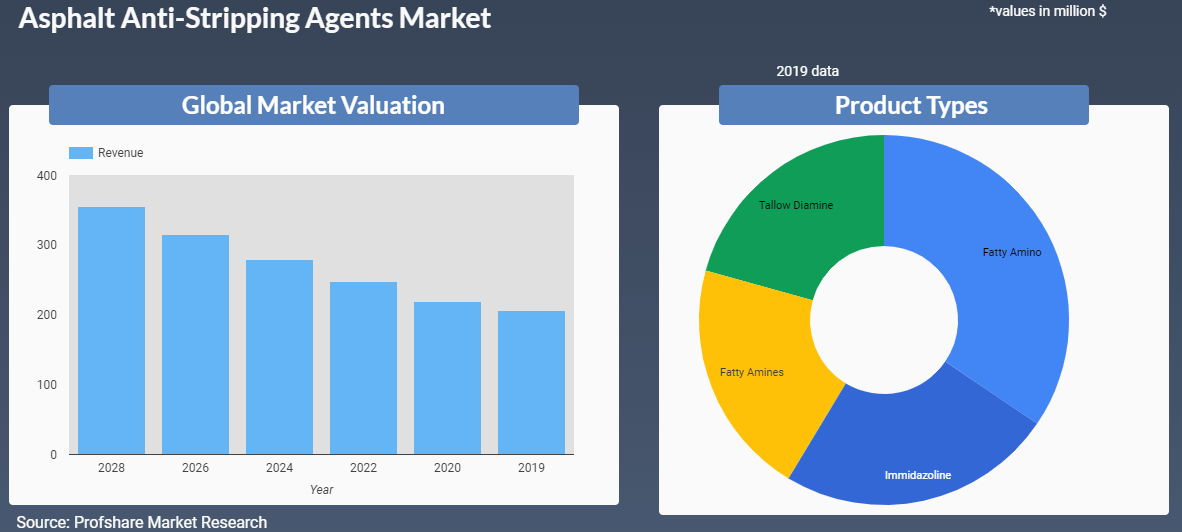 Application & Regional analysis
The applications of asphalt anti-stripping agents are into Road construction, Bridges and airport construction. Majority of market revenue is generated through sale in road construction. In recent times anti-stripping agents usage in Airport Construction has risen significantly and estimated to show highest growth rate in upcoming years. Application in bridges holds little significance and expected to show slow growth rate during forecasted period.
Geographical analysis of research study is based on analysis of Market insight in North America, Europe, Asia Pacific, Middle East, South America, and Africa & Rest of the World. Asia regions lead the market with almost 48 % of revenue generated from region in 2019. Asia market is mature and still expected to show significant growth in upcoming years. North America is emerged as one of fastest growing market especially due to airport and roads. South America and Middle East also estimated to show high growth rate during forecasted period. Oceania Market estimated to grow at 6.5 % CAGR between 2023 to 2029.
Research study has extensively worked on supply-demand analysis which has become important parameter in Chemical industry. Supplier analysis helps to understand supply- demand scenario that certainly helps designed better manufacturing process. Analytical tools used while developing research studies include Porter's 5 Forces model, PESTEL analysis, SWOT analysis, market sizing. Opportunities and threat analysis have gaineded significant importance in recent years primarily due to dynamic nature of Chemical industry.

Asphalt Anti-Stripping Agents Market 2020: Product Types
Fatty Amino
Immidazoline
Fatty Amines
Tallow Diamine
Asphalt Anti-Stripping Agents Market 2020: Applications
Road Construction
Bridges
Airport Construction
Asphalt Anti-Stripping Agents Market 2020: Competitive Analysis
Report includes accurate analysis of key players with Market Value, Company profile, SWOT analysis. The Study constitutes of following key players in Asphalt Anti-Stripping Agents Market 2020:

Akzonobel NV
Dupont
Arkema SA
Honeywell International Inc.
Evonik Industries
Kraton Corporation
Huntsman Corporation
Sasol Limited
Ingevity Corporation
Arrmaz
DOW Chemical Company
Geographical analysis of Asphalt Anti-Stripping Agents Market 2020:
North America

U.S.A
Canada
Mexico
Rest of NA

Europe

France
Germany
UK
Rest of Europe

Asia Pacific

China
Japan
India
Singapore
Rest of APAC

Latin America
Middle East
Africa
Rest of World
Global Asphalt Anti-Stripping Agents Market Report delivers a comprehensive analysis of the following parameters:
Market Forecast for 2023-2029
Market growth drivers
Challenges and Opportunities
Emerging and Current market trends
Market player Capacity, Production, Revenue (Value)
Supply (Production), Consumption, Export, Import analysis
End user/application Analysis
Report Coverage
| Parameters | Details |
| --- | --- |
| Base Year | 2022 |
| Historical Data | 2017-2022 |
| Forecast Data | 2023-2029 |
| Base Year Value (2022) | USD 247.94 million |
| Forecast Value (2029) | USD 377.76 million |
| CAGR (2022 to 2028) | 6.2 % |
| Regional Scope | North America, Europe, Asian Pacific, Latin America, Middle East and Africa, and ROW |
---
Asphalt Anti-Stripping Agents Market was valued at around USD 247.94 million in 2022 & estimated to reach USD 377.76 million by 2029.
Asphalt Anti-Stripping Agents Market is likely to grow at compounded annual growth rate (CAGR) of 6.2% between 2023 to 2029.
Yes, the report includes COVID 19 impact on the market.