Asia Pacific Duffles Travel Bag Market is estimated to reach USD 24878.98 million by 2027, growing at a CAGR of 7.1 % between 2019 and 2027
Duffle travel bags are a latest trend in the luggage bag segment and is a latest version of improved version of quality bags in the market. These are found usually in a rectangular shape and other attractive shapes and sizes. Being trendy is a style quotient for most individuals and in order to maintain it, manufacturers are producing innovative products with a premium quality and strategic price. Travel duffle bags are light weight in nature and made of leather or microfibers material that maintains it durability. These bags are made in such a way that are adjustable in size and can fit in any luggage carriers on the transport. Duffle bags are famous amongst people who go for short trips and have lots of luggage to carry along.
The duffle travel bags are in huge demand amongst all young travellers. The tourism industry has always been a trending market for duffle bags in APAC region. These duffle bags are found carrying with style and usually found to match it with their attire. There are some positive drivers that push the product in the market. The usage of travel duffle bags is predominant with fitness freak woman as they prefer taking these bags to gym as well for travel for a shorter distance. Recently, the travel duffle bags market is shifted from larger duffle bags to smaller along with the growing preference for off-price networks driven by demand from brand aware population.
The study covers detail analysis, growth and forecast of the Asia Pacific Duffles Travel Bag Market. The report includes market analysis on global and regional level. The study covers historical data analysis from 2014 to 2017 and market forecast for 2019 to 2027 based on revenue generated. The study includes market value in terms of revenue in billion USD for years 2014-27 and compound annual growth rate (CAGR) in % for from 2019-2027. The market is expected to show constant growth between 2019-2027.
The report comprises value chain analysis for each of the product segments. Value chain analysis offers in depth information about value addition at each stage. The study includes drivers and restraints for Asia Pacific Duffles Travel Bag Market along with their impact on demand during the forecast period. The study also provides key market indicators affecting the growth of the market. Research report includes major player analysis with shares of each player inside market, growth rate and market attractiveness in different end users/regions. Our study Asia Pacific Duffles Travel Bag Market helps user to make precise decision in order to expand their market presence and increase market share.
The report provides Asia Pacific Duffles Travel Bag Market Dynamics ,includes industry growth drivers, challenges, opportunities , risk, constraints as well as threats .Reports also includes Manufacturing Cost Analysis mainly included Raw Materials Analysis, Price Trend of product, Mergers & Acquisitions, Expansion, Key Suppliers of product, Concentration Rate of Asia Pacific Duffles Travel Bag Market, Manufacturing Process Analysis. Research Report contains Market Effect Factors analysis mainly included Technology Progress, Consumer Needs Trend, External Environmental Change.
Counterfeiting is one of the biggest challenges faced by the industry, as it could have adverse impacts on the market growth in the region. Both demand as well as supply sides of the industry are affected by counterfeiting operations. For instance, counterfeiting reduces sales volumes and the incentives for manufacturers to innovate; results in downward pressure on product prices; and increases the risk of manufacturers having to shut down their operations due to losses and other challenges. Consumers, on the other hand, are faced with risks pertaining to their health and safety, wherein substandard products can cause mild inconveniences to life-threatening issues. In addition, counterfeit products lead to erosion of consumer confidence, while also rendering them economically worse-off.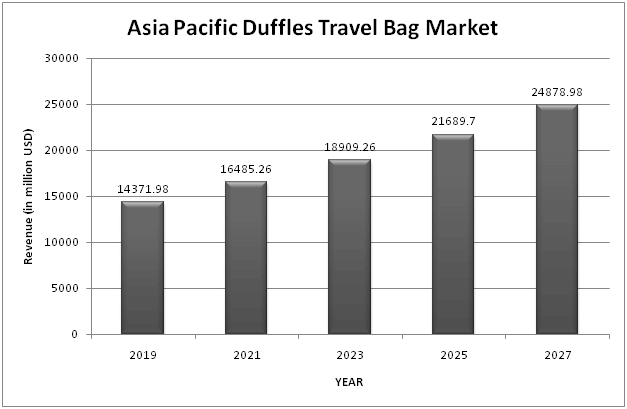 Asia Pacific Duffles Travel Bag Market: Product Type
Rolling Duffle Bags
Expandable Duffle Bags
Upright Duffel Bags
Carry-on Duffle Bags
others
Asia Pacific Duffles Travel Bag Market: Application
Asia Pacific Duffles Travel Bag Market: Competitive Analysis
Report includes accurate analysis of key players with Market Value, Company profile, SWOT analysis. The Study constitutes of following key players in Asia Pacific Duffles Travel Bag Market:

VIP Industries
VF Corporation
Briggs & Riley Travelware
MCM Worldwide
Samsonite
Rimowa
Louis Vuitton
Delsey
Antler
Hermes
Crown
HIDEO WAKAMATSU
ACE
Tumi
Santa Barbara Polo
Travelpro
Eminent
Commodore
Diplomat
Winpard
Jinhou
JINLUDA
Powerland
Geographical analysis of Asia Pacific Duffles Travel Bag Market:
China
Japan
India
Singapore
South Korea
Malaysia
Rest of APAC
Asia Pacific Duffles Travel Bag Market Report delivers comprehensive analysis of :
Market Forecast for 2019-27
Market growth drivers
Challenges and Opportunities
Emerging and Current market trends
Market player Capacity, Production, Revenue (Value)
Supply (Production), Consumption, Export, Import analysis
End user/application Analysis
---
Asia Pacific Duffles Travel Bag Market was valued at around USD 16485.26 million in 2021 & estimated to reach USD 26645.39096 by 2028.
Asia Pacific Duffles Travel Bag Market is likely to grow at compounded annual growth rate (CAGR) of 7.1% between 2022 to 2028.
Yes, the report includes COVID 19 impact on the market.