Report Summary
Global Aluminium Alloy Market is estimated to reach USD 141610 million by 2026, growing at a CAGR of 8.31 % between 2018 and 2026
Bauxite is the raw material of aluminium. Bauxite is electrolysed to produce aluminium alloys. Aluminium alloys contains aluminium as major content and other alloying elements such as copper, magnesium, manganese, silicon, tin and zinc as minor content. Aluminium alloys are divided into two types i.e. casting alloys and wrought alloys. And these are further divided into heat treatable and non- heat treatable. Most of the aluminium is used in wrought products like rolled plate, foils and extrusions. Cast aluminium alloys has low tensile strength and melting point than wrought alloys.
Aluminium in its pure form does not possesses high tensile strength but addition of alloying elements gives it high tensile strength. It can work in cold environments also and its tensile strength increases in cold temperatures. Aluminium is lighter than copper and steel. It has high strength to weight ratio which makes it important structural material for transportation industries because it allows increased payloads and fuel savings. Aluminium alloys have excellent corrosion resistance, toughness, durability, electrical conductivity and thermal conductivity.
Based on applications or end user, global aluminium market is categorised into Electrical Application, Food Packaging, Truck and Marine Frames, Aircraft Industry, Structural and Automotive Application and Architectural Application. As aluminium is good conductor of electricity it used in producing transmission lines, transformers and motors. Cost of aluminium is lower than copper therefore in electric sector it is highly preferred. Due to lightweight components, better fuel efficiency and reduced emissions trends aluminium alloys are preferred in automotive sector on large scale. Aluminium alloys have great barrier properties against UV light, moisture and odour therefore they are used in food packaging industries also. They are used to manufacture structural parts of aircraft.
Geographically, the Global Aluminium Alloy Market is segmented into several regions such as North America, Europe, China, Japan, Southeast Asia and India. Currently Asia Pacific shares largest segment of this market. Due to rapid industrial growth and urbanization in developing countries of Asia Pacific regions, aluminium alloys market also expected to show higher growth rate in Asia Pacific regions during forecasted period.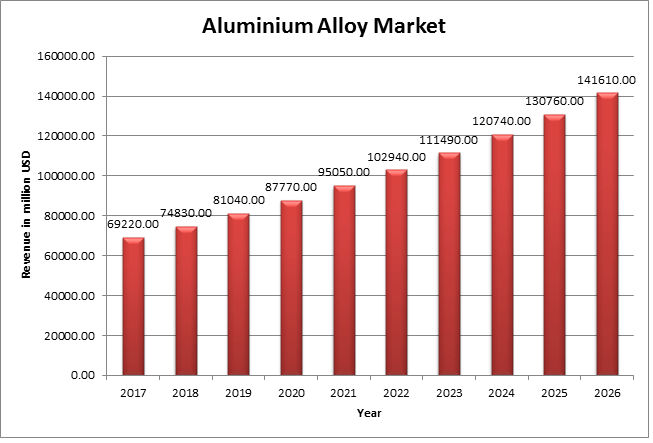 Aluminium Alloy Market : Heat Sensitivity Type
Heat Treatable Alloys
Non Heat-Treatable Alloys
Aluminium Alloy Market : Design Type
2000 Series
3000 Series
4000 Series
5000 Series
6000 Series
7000 Series
Other Series
Aluminium Alloy Market : Application
Electrical
Food Packaging
Construction
Automotive
Marine
Aerospace Industry
Global Aluminium Alloy Market: Competitive Analysis
Report includes accurate analysis of key players with Market Value, Company profile, SWOT analysis. The Study constitutes of following key players in Global Aluminium Alloy Market:

United Aluminum
Emirates Global Aluminium
Hydro
Alcoa
ELVAL
RUSAL
Atlas Steels
Wilsons Ltd
Stena Aluminium
Comet Metals
Geographical analysis of Aluminium Alloy Market:
North America
Europe

France
Germany
Spain
UK
Rest of Europe

Asia Pacific

China
Japan
India
South East Asia

Latin America
Middle East and Africa
Aluminium Alloy Market Report delivers comprehensive analysis of :
Market Forecast for 2019-27
Market growth drivers
Challenges and Opportunities
Emerging and Current market trends
Market player Capacity, Production, Revenue (Value)
Supply (Production), Consumption, Export, Import analysis
End user/application Analysis
Report Coverage
| Parameters | Details |
| --- | --- |
| Base Year | 2022 |
| Historical Data | 2017-2022 |
| Forecast Data | 2023-2029 |
| Regional Scope | North America, Europe, Asian Pacific, Latin America, Middle East and Africa, and ROW |
---
Frequently Asked Questions (FAQ)
Aluminium Alloy Market report considers 2021 as the base year.
Aluminium Alloy Market report considers data for period 2016 to 2021 as the historical data to predict market forecast between 2022 to 2029.
Yes, report is inclusive in-detailed analysis of key players in Aluminium Alloy Market
Aluminium Alloy Market Study is broadly divided into North America, Europe, Asian Pacific, Latin America, Middle East and Africa, and ROW. Also these regions are further analysed as per various countries
Aluminium Alloy Market Report includes Market Segmentation, Regional outlook, Application Analysis, Competitive analysis, Supply-Demand Analysis, Pricing insight.
Yes, the report includes COVID 19 impact on the market.