Heat exchanger is a piece of a machine which is built for resourceful heat transfer from one medium to another. In simple words, heat exchangers are fundamental tools which transfer heat from one medium to another. In the aviation engineering, they are especially used for reducing the temperatures of the fuel and thus increasing the efficiency of the aircraft engines. Aircraft heat exchangers are commonly used to cool hydraulics, RAM air, auxiliary power units, gearboxes, etc. The most commonly use heat exchanges in aviation are the flat tube and the plate-fin heat exchangers. Both heat exchangers are engineered for high performance with poor heat transfer fluids such as oils and ethylene glycol solutions for efficient cooling.
Plate-fin heat exchangers are made from finned passages and are separated by flat plates and have a unique internal pattern to maximize heat transfer. They give the best performance to-weight ratio and are applicable for air-to-air, air-to-liquid or liquid-to-liquid cooling. Flat tube heat exchanger consists of several flat tubes that come with multiple extended surface outlets within each tube. In flat tube heat exchangers, the fins are typically vacuum-brazed between each flat tube and it is used to form a passage for the second fluid. These flat tube designs provides lower cost alternative to plate-fin designs. Both these type of heat exchangers are vacuum-based for 'rugged-ization'.
Geographically, Global Aircraft Heat Exchanger Market is segmented into several areas- North America, Europe, China, Japan, Southeast Asia and India. At present North America shares largest market for Aircraft Heat Exchanger followed by Europe because of significant increase in deliveries of commercial aircraft and unmanned aerial vehicles in the US and Canada. The fastest growing market for aramid fibers over the forecast period is expected to be Asia Pacific because of the rising demand for commercial aircraft and unmanned aerial vehicles. China and India are projected to propel the demand for the product over the forecast period due to increasing air traffic.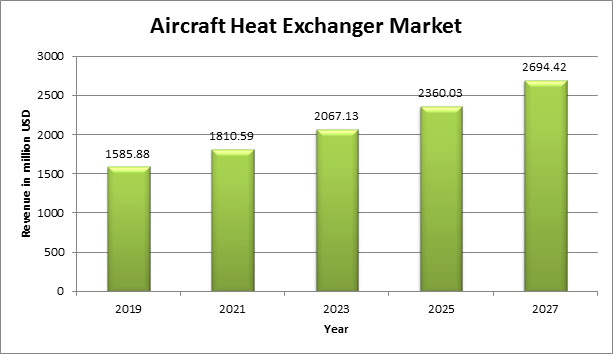 Aircraft Heat Exchanger Market: Product Type
Aircraft Heat Exchanger Market: End Users/Application Analysis
Fixed-Wing Aircraft
Rotary-Wing Aircraft
Unmanned Aerial Vehicles (UAVs)
Aircraft Heat Exchanger Market : Competitive Analysis
Report includes accurate analysis of key players with Market Value, Company profile, SWOT analysis. The Study constitutes of following key players in Aircraft Heat Exchanger Market :
Aavid Thermalloy
Ametek
Honeywell International
Jamco
Liebherr-International
Lytron
Meggitt
TAT Technologies
Triumph Group
United Technologies
Wall Colmonoy
Woodward
Geographical analysis of Aircraft Heat Exchanger Market:
North America
Europe

France
Germany
Spain
UK
Rest of Europe

Asia Pacific

China
Japan
India
South East Asia

Latin America
Middle East and Africa
Aircraft Heat Exchanger Market Report delivers comprehensive analysis of :
Market Forecast for 2020-28
Market growth drivers
Challenges and Opportunities
Emerging and Current Market trends
Market player Capacity, Production, Revenue (Value)
Supply (Production), Consumption, Export, Import analysis
End user/application Analysis
---
Aircraft Heat Exchanger Market was valued at around USD 1585.14 million in 2020 & estimated to reach USD 2865.56 by 2028.
Aircraft Heat Exchanger Market is likely to grow at compounded annual growth rate (CAGR) of 6.8% between 2021 to 2028.
segment dominated the global market in terms of revenue generation. region is likely to show the highest growth rate between 2021 to 2028.
Some of the top companies included in the research report are Aavid Thermalloy, Ametek, Honeywell International, Jamco, Liebherr-International, Lytron, Meggitt, TAT Technologies, Triumph Group, United Technologies, Wall Colmonoy, Woodward.
Aircraft heat exchanger market is driven by Rising demand for commercial aircraft and unmanned aerial vehicles.
Yes, the report includes COVID 19 impact on the market.