Additive Manufacturing with Metal Powders Market is estimated to reach USD 1.7 billion by 2025 from USD 365.2 million in 2017, growing at a CAGR of 21.2% between 2017 and 2025. Three – dimensional and printing technology are used to produce metallic products through Additive Manufacturing with Metal Powders. Additive manufacturing (AM) techniques are used to produce complex, high-value metal parts, with potential applications as critical parts, such as those found in aerospace components.
Metal additive manufacturing (AM) processes are transforming the metal manufacturing industry, especially in those areas where conventional manufacturing reaches its limitations in terms of both design freedom and manufacturing capabilities. Many metal AM systems are available today, which includes the powder-bed, powder-fed, and wire-fed processes based on laser, electron beam or plasma melting. Similarly, the variety of metal powder materials suitable for AM continues to expand. Some of the common metal powder materials available for AM, including stainless steels, aluminum, nickel, cobalt-chrome, and titanium alloys.
The supply chain for metal powders used in additive manufacturing (AM) is currently showing exponential growth and with this growth come new powder suppliers, new powder manufacturing methods and increased competition. Now it is widely used in automotive industry, aerospace industry, medical industry and academic institutions. The production of AM parts with consistent and predictable properties requires input materials (e.g., metal powders) having repeatable characteristics, which in turn requires standardized measurement methods for powder properties.
The global Additive Manufacturing with Metal Powders Market includes Asia Pacific, North America, Latin America, Europe, the Middle East and Africa. North America is the biggest market for Additive Manufacturing with Metal Powders which holds for about 40% of global market. Europe is also expected to see a healthy growth during the forecast period. However, due to improvement in the manufacturing sector, Asia-Pacific is anticipated to be the fastest growing market for Additive Manufacturing with Metal Powders.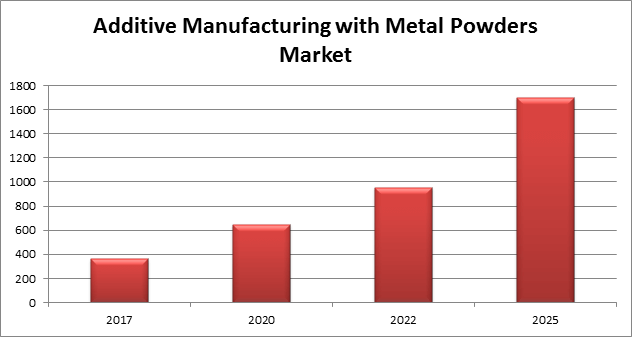 Additive Manufacturing with Metal Powders Market: Product Type
Selective Laser Melting (SLM)
Electronic Beam Melting (EBM)
Additive Manufacturing with Metal Powders Market: End Users/Application Analysis
Aerospace Industry
Automotive Industry
Healthcare & Dental
Academic Institutions
Additive Manufacturing with Metal Powders Market : Competitive Analysis
Report includes accurate analysis of key players with Market Value, Company profile, SWOT analysis. The Study constitutes of following key players in Additive Manufacturing with Metal Powders Market:
EOS GmbH
Concept Laser GmbH
SLM
3D Systems
Arcam AB
ReaLizer
Renishaw
Exone
Wuhan Binhu
Bright Laser Technologies
Huake 3D
Syndaya
Geographical analysis of Additive Manufacturing with Metal Powders Market:
North America
Europe

France
Germany
Spain
UK
Rest of Europe

Asia Pacific

China
Japan
India
South East Asia

Latin America
Middle East and Africa
Additive Manufacturing with Metal Powders Market Report delivers a comprehensive analysis of the following parameters :
Market Forecast for 2017-25
Market growth drivers
Challenges and Opportunities
Emerging and Current Market trends
Market player Capacity, Production, Revenue (Value)
Supply (Production), Consumption, Export, Import analysis
End-user/application Analysis