Non-Alcoholic Beer Market Report by Product Type (Limit Fermentation, Dealcoholization Method) by Application / End User (Man, Woman) by Industry Analysis, Volume, Share, Growth, Challenges, Trends and Forecast 2018–2026.
16-Mar-2018 | Number of pages: 160 | Report Code:PSMR-00355| Report Format : PDF | Status : Published
Demo Statistics
Non-Alcoholic Beer Market is valued at USD 4.52 billion in 2017 and is expected to reach USD 8.18 billion by the end of 2025, growing at a CAGR of 7.7% % between 2017 and 2025. In non-alcoholic beer, alcohol is removed in brewing process. It is not completely alcohol free. It contains below 0.5% alcohol by volume. It is commonly known as small beer, small ale, light beer or near bear. Non-alcoholic beverages are prepared by using mineral water, barley malt, wheat, and hop.

There are many benefits of drinking non-alcoholic drinks in moderate quantity. It helps in losing weight by reducing intake of drinking related calories. Wheat beer is good for athletes for reducing inflammation and physical illness. These drinks do not cause hangover, unpleasant smell after consumption. It improves cardiovascular system by increasing antioxidant level of bloodstream. Beer can reduce the risk kidney stones and helps to keep kidney healthy. It improves digestion. It is also useful in reducing bad cholesterol.

Beer with increased silicon levels helps to increase bone density. It also increase vitamin B levels as beer is enriched with vitamin B. It also avoid the risk of heart attack. It is helpful in making skin beautiful and smooth. It helps to get relief from joint pain. It is common to drink non-alcoholic drinks after exercise because it is rich in carbohydrates, sodium and fluid which are necessary for recovery. Depending on product the market of non- alcoholic market is splitted into Limit Fermentation and Dealcoholization Method.

Global Non-Alcoholic Beer Market is segmented into several regions such as Asia Pacific, North America, Latin America, Europe, and the Middle East and Africa. Currently, Southeast Asia and North America shares largest market of non-alcoholic beer. Asia Pacific is emerging as the biggest market for non-alcoholic beer market in the forecast period. Developing economies, increasing urbanization and changing life styles are the key factors for rising demand of non-alcoholic beer.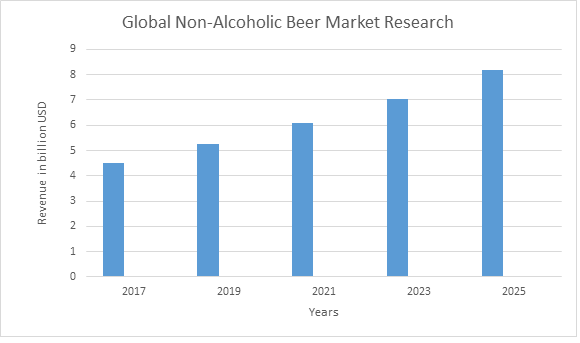 Non-Alcoholic Beer Market : Competitive Analysis
Report includes accurate analysis of key players with Market Value, Company profile, SWOT analysis. The Study constitutes of following key players in Non-Alcoholic Beer Market:
• Anheuser-Busch InBev
• Heineken
• Carlsberg
• Behnoush Iran
• Asahi Breweries
• Suntory Beer
• Arpanoosh
• Erdinger Weibbrau
• Krombacher Brauerei
• Weihenstephan
• Aujan Industries
• Kirin

Non-Alcoholic Beer Market: Regional Analysis
• North America
• U.S.A
• Canada
• Europe
• France
• Germany
• Spain
• UK
• Rest of Europe
• Asia Pacific
• China
• Japan
• India
• South East Asia
• Latin America
• Brazil
• Middle East and Africa